Application of Use of Geomagnetic Field in Migration of Aquatic Animals to Navigation of Underwater Vehicles
@
Abstract
A long-range cruising tye autonomous underwater vehicle (AUV) mainly uses an Inertia Navigation@System mounted on the vehilce and several underwater acoustic trasnponders set up on the seafloor at the distance of about 30 km for its navigation. AUV can reach the final goal by improving the localization eroors by INS at each underwater acoustic trasnponder. This system requires a lot of the nderwater acoustic trasnponders for a long-range cruising in the range of more than 1,000 km.

We paid attention to sea turtle migration using geomagnetic information studied by Lohmann, 1994. http://news.nationalgeographic.com/news/2001/10/1012_TVanimalnavigation.html


We have constructed a virtual navigation system using the information of a geomagnetic sensor, a depth sensor and an altimeter. The system localizes its position based on a geomagnetic field map and a bathmetric map.

We will carry out experiments using an underwater robot equippped with a magnetic sensor a depth sensor and an altimeter in 2004.

<![if !vml]>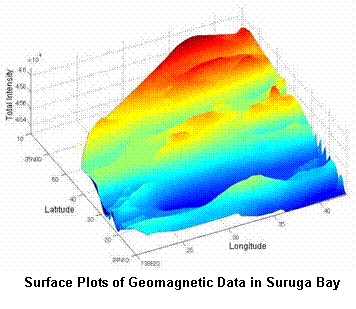 <![endif]>
Reference
'P.@Katase,T. and Kato,N. "Application of Use of Geomagnetic Field in Migration of Aquatic Animals to Navigation of Underwater Vehicles", 17th Symposium on Ocean Engineering A2003
(in Japanese)
2. Shigetomi, T., Orimo,Y., Hamada,T and Kato,N. "Study on Underwater Navigation System For Long-Range Autonomous Underwater Vehicles Using Geomagnetic and Bathymetric Information", 3rd Int. Sym. on Aero Aqua Bio-mechanisms (ISABMEC2006), 2006
3. Hamada T., Shigetomi T. , Orimo Y. and Kato N., "Study on Underwater Navigation System For Long-range Autonomous Underwater Vehicles Using Geomagnetic and Bathymetric Information", Proc. of 14th Int. Offshore and Polar Engineering Conference,2007

@
@
@