Precision Maneuvering of Biology-Inspired Underwater Vehicle
Objectivities
Many marine animals thrive in near shore, high-energy environments where rapidly changing flow velocities created by surges, currents, and breaking waves present extreme challenges to precision maneuvering and hovering performance. The ability of near-shore animals to achieve extraordinary stability and precision hovering is one key to their survival in wave-swept environments. Many near-shore fishes employ one or more pairs of oscillating fins to increase both stability and maneuverability. It is reasonable to believe that these highly maneuverable fishes serve as excellent biological templates for the design of man-made vehicles with extreme maneuvering and stealth capabilities. This project describes a multi-year development program to develop an improved understanding of the practical applications of oscillating fins and to demonstrate the utility of replacing cumbersome thrusters with a suite of oscillating fins designed to optimize the hovering and low speed maneuvering performance of an undersea vehicle. Japanese team involves three major components, (1)development and validation of analytic models describing the dynamic forces produced by fin motions, (2)development of a control approach that mimics the hovering fish motion, and (3)implementation of these concepts on an undersea vehicle. American team involves two major components, (1) review available information on the motion of pectoral fins of several types of swimming in low speeds or hovering under disturbances such as water currents or waves, (2)experimentally assess the kinematics of pectoral fin motion during hovering.
・ Compact 3MDMPF device with high speed capability and precise movement
Independent generation of flapping motion, rowing motion and feathering motion
(Legth of cylinder : 0.5 m, Max. frequency: 3 Hz)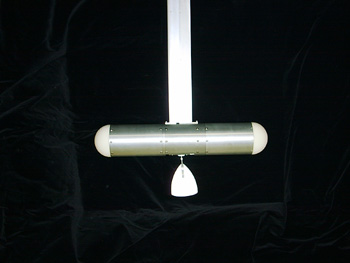 ・Underwater Robot with Mechanical Pectoral Fin"PLATYPUS"
Length
:
1.36 m
、
Weight
:
14.5 Kgf

Tethered
2 pairs of Mechanical Pectoral Fins
(
BIRDFIN)
CPU,
Attitude Sensors
、
Motion Sensors of BIRDFINs
、
Force Sensors on BIRDFINs
Acoustic Localizing Device (LBL method)

movie of PLATYPUS(September, 2002) (10,556 KB " forward_2hz.mpg")
Remodeled PLATYPUS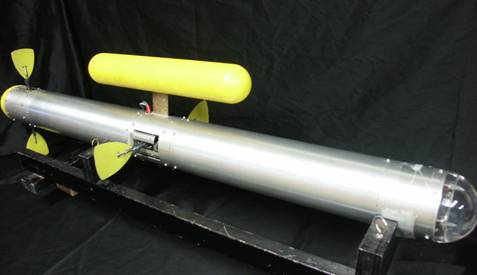 movie Guidance and control around a cylinder of remodeled PLATYPUS in water currents (January,2005) (16Mb)
Reference
N. Kato, H. Liu and H. Morikawa Biology-Inspired Precision Maneuvering of Underwater Vehicles


Proceedings of 12th

 

International Offshore and Polar Engineering Conference, pp.269-276

、

2002

N. Kato

, H. Liu and H. Morikawa

Biology-Inspired Precision Maneuvering of Underwater Vehicles(part 2)


Proceedings of

13

th

 

International Offshore and Polar Engineering Conference, pp.178-185

、

2003

Kato,N.

, Liu, H. and

Morikawa, H.(2003) Precision Maneuvering of Underwater Vehicles Equipped with Two Pairs of Mechanical Pectoral Fins,

Proc. of

2nd

Int. Symposium on Aqua Bio-Mchanisms

Kato,N. and Liu, H.(2003) Optimization of Motion of a Mechanical Pectoral Fin, JSME International Journal, Vol.46, No.4, pp.135

Kato,N.

, Liu, H. and

Morikawa, H.(2004) Biology-Inspired Precision Maneuvering of Underwater Vehicles(Part3),

Proc. of

14th

Int. Offshore and Polar Engineering Conference,

p.274

Kato,N., Ando,Y. and Shigetomi, T. (2004) Precision Maneuvering of Underwater Robot by Mechanical Pectoral Fins, Proc. of 2004 Int. Symp. On Underwater Technology, IEEE

Kato,N.

(2004) Median and Paired Fin Controllers for Marine Vehicles, ASME Applied Mechanics Review

Kato,N

., Liu, H. and

Morikawa, H. (2004) Biology-Inspired Precision Maneuvering of Underwater Vehicles in Bio-mechanisms of Swimming and Flying  (Edited by Kato, Ayers and Morikawa) Springer-Verlag,

Tokyo

Kato,N., Liu, H. and Morikawa, H. (2004)."Biology-Inspired Precision Maneuvering of Underwater Vehicles(Part 3)," Int. J. of Offshore and Polar Eng., Vol.15, No.2, pp.81-87

N. Kato, Y. Ando, T. Shigetomi and T. Katayama (2006) Biology-Inspired Precision Maneuvering of Underwater Vehicles (Part 4), International Journal of Offshore and Polar Engineering,Vol.16, No.3, p.p. 195-201